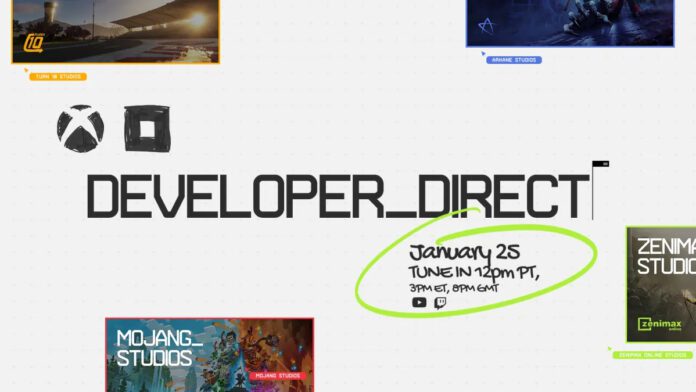 Un saluto a tutti Gamehz,
si è concluso da poco il Developer_Direct di Xbox, evento annunciato l'11 gennaio scorso, che noi di 4gamehz abbiamo seguito sul nostro canale Twitch. Durante l'evento, durato all'incirca 45 minuti, abbiamo avuto la possibilità di vedere non solo i giochi già ufficializzati all'interno dell'evento ma anche altro. Senza ulteriori indugi, andiamo a vedere cosa abbiamo visto durante questo evento.
Developer_Direct di Xbox, la lista dei giochi presentati durante l'evento
Minecraft Legends: è stato mostrato un nuovo video durante il quale abbiamo visto i vari interventi degli sviluppatori e nuove immagini del gioco. Annunciata anche la data d'uscita: il 18 aprile 2023. Il gioco arriverà anche su GamePass.
Forza Motorsport: anche qui è stato mostrato un lungo video di approfondimento dove gli sviluppatori spiegano come hanno lavorato sui dettagli e sulla fisica delle autovetture. Da quello che abbiamo visto, la grafica sembra davvero impressionante e ci ha davvero stupito. Non è stata rivelata una data d'uscita precisa ma soltanto un generico 2023.
Hi-fi Rush: dai creatori di The Evil Within, (tra cui il grande Shinji Mikam) arriva un nuovo action game a ritmo di musica con uno stile cartoon: la musica cambierà in base alla velocità con cui colpiremo i nemici. Il gioco è già disponibile su GamePass.
The Elder Scrolls Online: la nuova espansione Necrom in arrivo a il 5 giugno di quest'anno su Pc e il 20 giugno su Xbox e altre piattaforme.
Redfall: il titolo di Arkane Austin si mostra in nuovo lungo video gameplay durante il quale sono stati mostrati vari tipi di nemici e diversi tipi di approccio ad essi. Finalmente abbiamo anche la data d'uscita: 2 maggio 2023. Ovviamente anche su GamePass.
Con RedFall si chiude questo evento non molto lungo ma bello succoso. Ovviamente, cari GameHz, tutti i titoli che abbiamo visto durante l'evento sono e saranno disponibile su GamePass, niente di più comodo quindi.
A voi GameHz è piaciuto l'evento? Fatecelo sapere nei commenti