Salve a tutti, cari FollowHz!
A quanto riporta The Hollywood Reporter, Take Two insieme a Vertigo Entertainment e Netflix, sembra stiano producendo insieme il film di Bioshock, ma… sapevate che non è il primo tentativo di mettere in scena l'interessante avventura del gioco?
Bioshock: Un FPS di Grandi Emozioni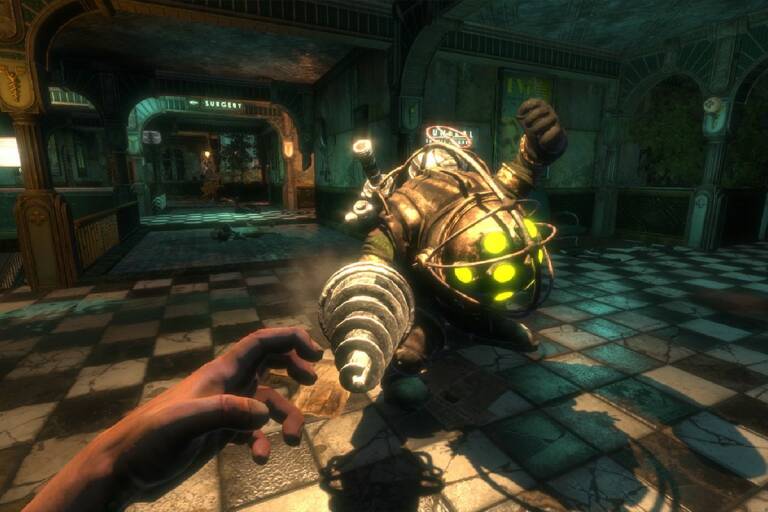 Si tratta di un FPS fuori dal comune, non solo per i temi trattati, ma anche per l'idea di gameplay dove potrai modificare biologicamente il tuo corpo e hackerare dispositivi e sistemi. Purtroppo, non avendo avuto l'occasione di giocarlo ancora, posso dirvi ciò che vi direbbe qualsiasi giocatore: come molti giochi, è divertente, spettacolare ed avvincente, ma non si ferma qui, riesce anche a lasciarti grandi emozioni dentro con la sua trama provocatoria e basata sulla moralità, la sua direzione artistica sontuosa e la superba recitazione vocale, Bioshock può anche tenere la testa alta tra i migliori giochi mai realizzati. Inoltre, è in programma un quarto capitolo della saga, ecco ciò che sappiamo qui.
Bioshock: Il Primo Tentativo di Fare un Film
Fu proprio la Universal, nel 2010, proprio tra i primi due Bioshock e le prime news su Infinite, a voler trasporre l'opera sul grande schermo ma, per problemi di budget e di divergenze creative, il film nel 2010: il regista Gore Verbinksi, pare volesse creare un film ricco di gore e di nudità, ma la Universal non aveva alcuna intenzione di realizzarlo vietato ai minori.
Bioshock: Il Nuovo Film
A dir la verità, non si sa nient'altro, a parte un tweet da Netflix Geeked per farci salire l'hype:
"We all make choices, but in the end our choices make us."

Netflix + BioShock. Would you kindly stay tuned? pic.twitter.com/Ke1oJQileX

— Netflix Geeked (@NetflixGeeked) February 15, 2022
E voi, avete paura come ogni altra trasposizione cinematografica da videogioco o siete fiduciosi? Ditecelo qua sotto!