Crypto è di nuovo qui e questa volta è in possesso della licenza per Sondare. Torna per voi misantropi, il titolo perfetto: Destroy All Humans 2 Reprobed è in uscita oggi per le consolle e dispositivi Microsoft e PlayStation.
Ciao GameHz e ben trovati!

In uscita oggi, il nuovo titolo di THQ Nordic, Destroy All Humans 2 Reprobed. I cittadini del moderno pianeta terra sono chiamati a rivivere l'esperienza più classica del filone fantascientifico in un open world. Infatti sarà possibile visitare diversi luoghi come Bay City, Albion, Tunguska, Takoshima and Solaris. Spinti dal desiderio di vendetta e dalla voglia di scoprire gli effetti di un nuovo, pazzesco arsenale sulle vostre vittime preferite: gli umani. 

THQ Nordic Digital Showcase 2022, cosa è stato presentato?
Il trailer e il gameplay di Destroy All Humans 2 Reprobed
Nei giorni precedenti l'uscita del gioco, la THQ Nordic ha rilasciato il trailer, irriverente e divertentissimo ma utile a capire in quale contesto ci muoviamo: gli anni '60. Crypto è sulla luna quando sbarcano gli americani e preso dalle note di una nota canzone dei Rammstein (a tema), comincia il suo tour per il Pianeta Terra passando e distruggendo le grandi capitali europee. Dopo l'Europa, arriva il turno della Russia e lì cripto scopre qualcuno, se non il primo responsabile dell'esplosione dell'Astronave Madre, impegnato in una partita gioca a carte con un orso bruno ed una bottiglia di vodka sul tavolo (il gioco-stereotipo vince su tutto). Crypto si spinge anche in Giappone dove si troverà faccia a faccia con un immenso lucertole marino (vi ricorda qualcuno?).



Insomma, l'alieno con i genitali è alla carica per mettere a tappeto i membri del KGB e tutti gli Hippy che proliferano per le strade. Il gioco è chiaramente per adulti e gli stessi sviluppatori hanno commentato :

"As Players explore the game environment, they use various weapons (e.g., Disintegrator Ray, Ion Detonator, Zap-o-Matic) to kill human civilians and military forces.
Players also use psychokinetic abilities to fling objects around, and an anal probe to harvest human brains—splashes of green blood appear as brains are harvested. Combat is frenetic, accompanied by realistic gunfire, large explosions, and screams of pain. Civilians' thoughts can sometimes be heard, with references to suggestive material. References to drugs may appear in the dialogue."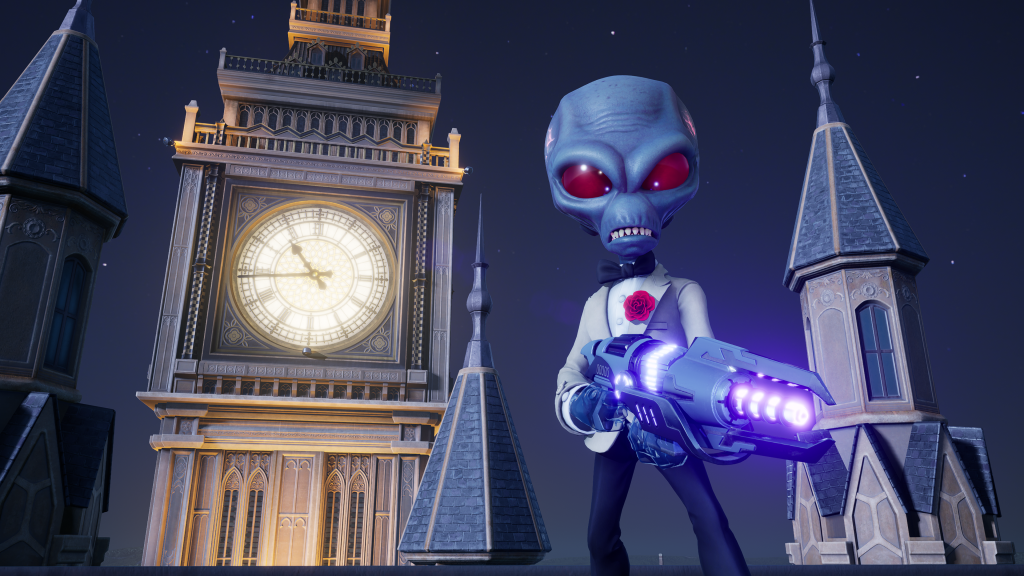 Non solo distruzione e nuove tecnologie da usare contro Hippy e Sovietici, nel gioco infatti è possibile rapire umani e shakerarli in cocktail a basa di DNA per potenziare le proprie abilità. Inoltre è possibile invitare un amico per attivare la modalità cooperativa locale e schermo condiviso per due giocatori.
Il gioco è disponibile per PC, PlayStation®5, and Xbox Series S/X.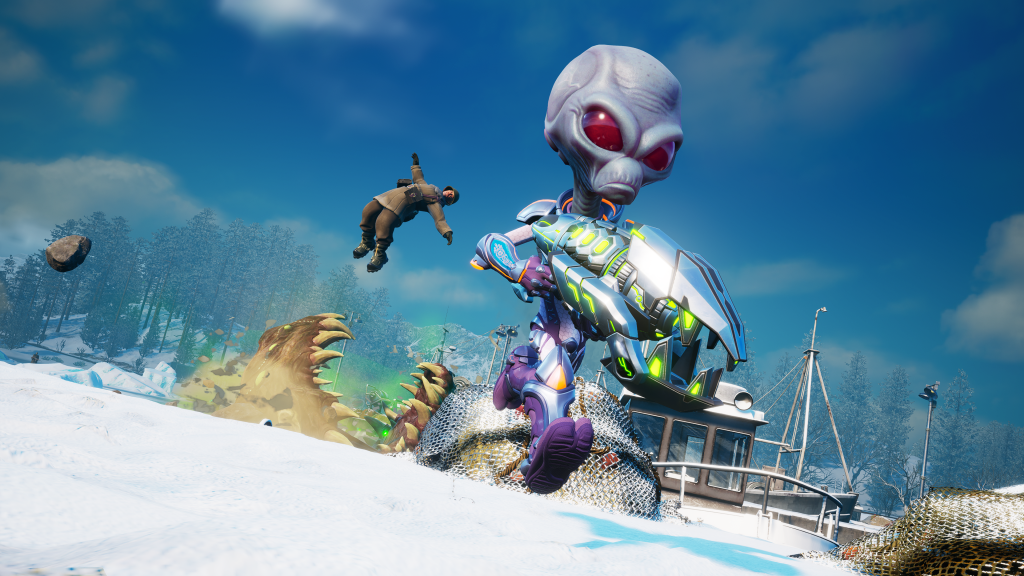 GameHz! Direi che ci siamo, adesso non tocca che sedersi, accendere la consolle e dare il via alla distruzione di massa su Destroy All Humans 2 – Reprobed. Fate sapere cosa ne pensate, lasciando un commento qui sotto!
THQ Nordic Destroy All Humans 2 – Reprobed
TerryNdv