Salve a tutti, cari FollowHz!
Il sequel del famoso primo capitolo del rpg di Obsidian Entertainment, già annunciato all'E3 2021 con un trailer ed il titolo semplice di The Outer Worlds 2 potrebbe già uscire nel 2023, insieme ad Avowed, il loro nuovo action rpg fantasy, nonostante le vaghe dichiarazioni degli sviluppatori.
The Outer Worlds 2: Cosa Sappiamo
A darci la speranza è il profilo LinkedIn di Dan Maas, che segnala l'inizio dei lavori sul sequel un mese prima dall'uscita del primo capitolo, ma non solo, anche il Design Director di Obsidian, Josh Sawyer, ci fa ben sperare rivelando in un Tweet di aver giocato sia The Outer Worlds 2 che Avowed, quindi esiste almeno una prealpha di entrambi i giochi.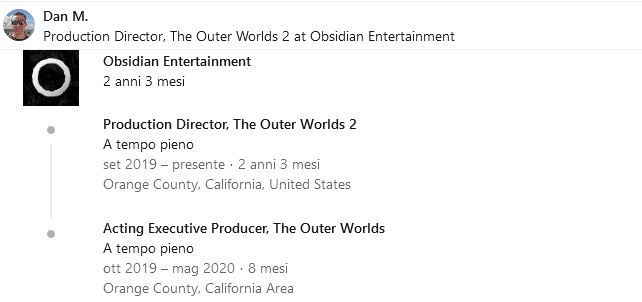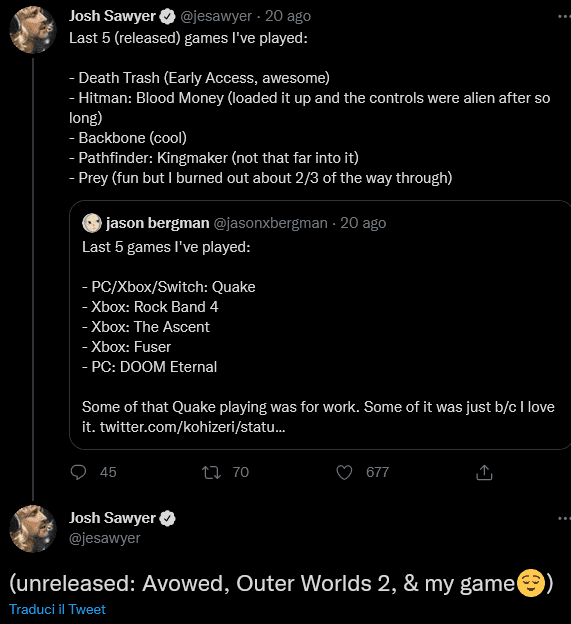 Come notate, però, da Obsidian, o meglio da Josh Sawyer, possiamo aspettarci anche un terzo gioco di cui ancora non si sa nulla.
Ciò che sappiamo è che il gioco sarà un'esclusiva Microsoft (quindi, PC e Xbox) e gratis dal dayone su gamepass. Non ci resta, quindi, che aspettare l'E3 2022 per ulteriori dettagli.
Di seguito, il trailer:
E voi, che ne pensate? State aspettando con ansia questo nuovo capitolo di The Outer Worlds?