Salve a tutti, cari Followhz!
Il Team Hero fa il suo debutto esplosivo con il protagonista Shun'ei, l'assonnato Meitenkun e la stella cadente Benimaru.
Tokyo, Giappone, 28 gennaio 2021 – Snk Corporation ha rivelato oggi un nuovo esilarante trailer del personaggio di Benimaru Nikaido, il ritorno del campione in The King of Fighters XV.
Benimaru, insieme al maestro illusionista Shun'ei e al letale Meitenkun, formano il dinamico Team Hero.
Più squadre e trailer dei personaggi saranno svelati prima del lancio del gioco, entro fine anno.
The King of Fighters XV- Incontra Team Hero: Shun'ei, Meitenkun e Benimaru Nikaido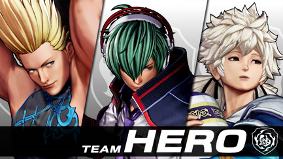 KOF XV continua l'eredità della serie KOF con le sue iconiche battaglie a squadre 3 contro 3.
Diverse squadre hanno storie e finali diversi.
The King of Fighters XV- BENIMARU NIKAIDO
Nato in una famiglia ricca e cresciuto dal padre giapponese e dalla madre americana, questa stella cadente porta la lotta a un livello scioccante. La sua struttura snella esalta la sua elettrostaticità e le sue gambe cesellate (costruite da anni di boxe) gli permettono di assestare calci che colpiscono come fulmini. Durante questo torneo, l'amico e rivale di Benimaru, Kyo Kusanagi, lo costringe a vegliare su Shun'ei e Meitenkun.
The King of Fighters XV- SHUN'EI

Sebbene giovane, Shun'ei è un maestro manipolatore di illusioni. Poco dopo che i suoi poteri misteriosi si formarono col conseguente ripudio da parte dei genitori, Shun'ei finì sotto l'ala del leggendario maestro di arti marziali Tung Fu Rue, che gli insegnò a controllare i suoi nuovi poteri.
Dopo la sconfitta di uno strano essere noto come Verse, Shun'ei continuò il suo addestramento nel tentativo di controllare meglio i suoi poteri. Entrò nel torneo con il suo amico Meitenkun per spingere ulteriormente le sue capacità al limite.
The King of Fighters XV- Meitenkun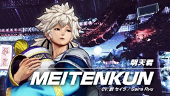 Con il cuscino in mano, questo giovane combattente assonnato è un maestro della tecnica di arti marziali nascoste come la Hyakkyokuminminken, o Pugno del sonno delle otto estremità. Considera il suo mentore Tung Fu Rue e il suo compagno discepolo/migliore amico Shun'ei la sua famiglia. Molti pensano che Meitenkun sia l'arma segreta di Tung, poiché l'estensione del suo potere esplosivo e della sua tecnica è un mistero per tutti.
Di seguito, il trailer: