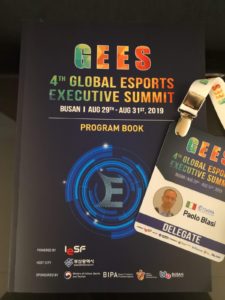 Salve a tutti cari followHz,
dal 29 agosto al 1 settembre, per il terzo anno consecutivo si svolgerà a Busan in Corea del Sud, l'evento GEES 2019 ovvero il Global Esports Executive Summit.
Anche per questa edizione l'Italia sarà rappresentata da ITeSPA Italian eSport Association con il suo presidente Paolo Blasi. il GEES rappresenta il punto di riferimento nelle discussioni internazionali sul connubio tra e-Sport e sport. Tre giorni ricchi di interventi e relazioni di personalità da tutto il mondo, idee, proposte e dibattiti, che forniranno uno spaccato preciso di quelli che sono, ma soprattutto che saranno, i maggiori argomenti e-Sport nel prossimo futuro.
"Esports Sustainability and Governance" è il tema di questa edizione che verrà analizzato da speaker di fama internazionale come: Leopold Chung, Secretary General International Esports Federation; Young Man Kim, President Korea e-Sports Association, Reid Melton, Commentator; Samart Benjamin Assarasakorn, AGENT-e Co.;Ido Brosh, President Israeli Esports Association; Nalain Naidoo, International Academy of Sport Science and Technology; In-Sook Lee, Busan IT Promotion Agency; Dan Korhonen, Svenska Spel; Paul Kim, PUBG Corporation; Sunghoon Jung, DLA+.
Per maggiori curiosità direttamente dalla Corea del Sud basta collegarsi alla pagina facebook di ITeSPA.
Cari followHz, amo sempre riportarvi i comunicati stampa di ITeSPA perchè sono la conferma del fatto che gli e-sport stanno crescendo e sapere che anche l'Italia ne farà parte è motivo di orgoglio.