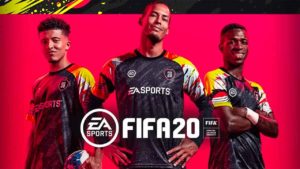 Salve a tutti cari followHz,

FIFA 20 è approdato sul mercato videoludico lo scorso 27 settembre. Al lancio, il gioco EA ha conquistato i vertici della classifica UK, ma non solo.
Secondo i dati riportati da IGEA (Interactive Games & Entertainment Association), il nuovo capitolo della celebre serie calcistica ha infatti conquistato i vertici delle classifiche videoludiche di Australia e Nuova Zelanda. Sia sul fronte retail, sia sul fronte dei download digitali, FIFA 20 si è conquistato la medaglia d'oro nel corso della settimana compresa tra 23 e 29 settembre. Di seguito, trovate la top-ten integrale australiana, relativa ai dati retail:
FIFA 20
Code Vein
Rainbow Six Siege
Borderlands 3
Grand Theft Auto V
NBA 2K20
The Surge 2
Minecraft
Far Cry 5
Shadow of the Tomb Raider
Questa, invece, la top-ten dei giochi più venduti in Nuova Zelanda:
FIFA 20
Code Vein
Borderlands 3
Rainbow Six Siege
Grand Theft Auto V
Spyro Reignited Trilogy
NBA 2K20
Crash Bandicoot N. Sane Trilogy
Far Cry 5
Minecraft
Parzialmente differenti le classifiche relative ai digital download. Limitandoci al podio, in Australia troviamo FIFA 20 seguito da The Legend of Zelda: Breath of the Wild e, al terzo posto Borderlands 3. In Nuova Zelanda, invece, il gioco calcistico precede Borderlands 3 e NBA 2K20.
Cari followHz, sinceramente mi aspettavo questi risultati dato che FIFA era un titolo molto atteso e caricato di aspettative visto anche il malcontento generale che aveva portato il capitolo precedente.
Per quanto mi riguarda, cari followHz, per ora escludendo il periodo in cui il noto bug ha colpito il gioco impedendo anche a me di giocare, lo trovo molto intrigante e, passatemi il termine…romantico perchè la prima volta che ho visto qualcosa di simile alla modalità VOLTA era il 1997 quando oltre al canonico undici contro undici, si aveva la possibilità di scegliere anche il futsal in un campo indoor.
Rispetto a FIFA, nonostante (come detto) i difetti iniziali siano stati moltissimi, mi sento molto positivo, credo che EA a partire da qui ci regalerà grandi cose….più che altro ci spero.
In questa sede voglio provare a dare qualche consiglio alla casa statunitense: a mio avviso la modalità VOLTA  mi è parsa una simpatica novità: la storia va un po' rivista, è perfettibile però è simpatica.
Il secondo consiglio è relativo alla modalità carriera: la EA  si vanta di aver creato un gioco iper realistico con molte novità grafiche. Per chi come me segue il calcio, sa che gli scambi (prestiti in questo caso), possono essere effettuati con obbligo e con diritto di riscatto e, secondo me l'aggiunta di questa scelta in sede di trattativa potrebbe rendere la cosa molto più realistica.
Ultimo desiderio: vorrei la possibilità di giocare la modalità carriera ance con il futsal.