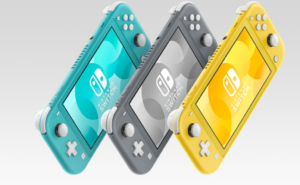 Salve a tutti cari followHz,

ogni videogiocatore aspetta con spasmodica ansia le uscite del mese, e questa è la volta della Nintendo Switch e includono sia titoli indipendenti che produzioni AA e AAA in versione rimasterizzata, un buon passatempo in attesa dei botti di metà e fine mese con l'arrivo di The Witcher 3 Wild Hunt, Little Town Hero e Luigi's Mansion 3.
Lunedì 30 settembre
Martedì 1 ottobre
YU-NO A Girl Who Chants Love At The Bound Of This World

80 Days

Sniper Elite III Ultimate Edition

Lanternium

Super Crate Box
Mercoledì 2 ottobre
Giovedì 3 ottobre
Candleman

Fault Milestone One

CASE Animatronics

Galaxy Champions TV

Cubixx

Tic-Tac-Letters by POWGI

Hexagroove: Tactical DJ
Venerdì 5 ottobre
Ghostbusters The Video Game Remastered

Rimelands Hammer Of Thor

The Tiny Bang Story

One Night Stand

Beats Runner

CROSSNIQ+
Sabato 5 ottobre
Double Switch 25th Anniversary Edtion
Da segnalare in particolare l'arrivo di Sniper Elite III Ultimate Edition e Ghostbusters The Video Game Remastered, notevole anche il parco titolo indie con The Tiny Bang Story, One Night Stand, Beats Runner e Fault Milestone One.
Spostiamoci verso l'Asia e rimaniamo in compagnia della Switch: Non ci sono ancora notizie precise a corredo né annunci riguardanti il suo arrivo in occidente, ma il canale YouTube giapponese ufficiale di Nintendo ha pubblicato già due trailer relativi a un nuovo Brain Training per Nintendo Switch.
Quello che emerge in maniera piuttosto chiara dai video di presentazione è il fatto che il nuovo Brain Training per Nintendo Switch contenga vari esercizi da fare in multiplayer offline e il fatto che sfrutti in maniera piuttosto intensiva i Joy-Con con varie applicazioni oltre al touch screen attraverso un nuovo stilo.
Oltre agli esercizi classici di calcolo e logica, che sfruttano il touch screen con la possibilità di scrivere direttamente sullo schermo come nei capitoli classici della serie, qui con tanto di utilizzo di stilo per la scrittura appositamente fornito con il gioco, il nuovo Brain Training per Nintendo Switch utilizza per alcuni mini-game anche i sensori di movimento dei Joy-Con e il sistema di rilevazione a infrarossi. La data di uscita è fissata pare il 27 dicembre 2019 in Giappone, in attesa di informazioni per l'occidente.
Cari followHz, non sono un possessore di Switch purtroppo, però sicuramente si parla di titoli appetitosi e a dirla tutta invidio il titolo che sta per uscire in oriente essendo estimatore dei giochi che fanno aguzzare la mente, spero quindi che non rimanga qualcosa di confinato al Giappone.