All Hail to You All Dear FollowHz!
It is astonishing how often the internet could confirm itself as a never ending mine of news and descoveries regarding indie games these days.
With the right amount of attention, one can find almost every day interesting free titles, wonderful works born from the genius of talented yet scarcely known artisans of the digital craftsmanship whose quality has nothing to envy to other, much famous productions (on the contrary, sometimes they may reach even a higher step of standard).
Among those developers who distinguished themselves in the process of making such high level product we could Hoo Games, who has already been active for several years in the process of creating games for Android devices whose features show clearly the great expertise of an author gifted with super skills.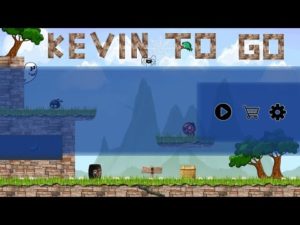 The first great title from HG is Kevin to go, followed by Magic Traps (this second one is basically a 26 level Jump and run Puzzle game with retro graphics) and by the pirate themed warship title named Pirate Rescue, followed by works such as Slubber the Red Ball, Hungry Burpp and Angry Cubes, all strictly based on the tradition of platform games well represented by the one that could be refered to the best work made by Hoo Games, namely Dan The Dungeon Digger, capable to strike the player with it's athmospheres halfway between Donkey Kong Country 3 (something of the well known SNES's title could come to your mind) and The Classic of Classics Super Mario Bros., particularly in regards to a bit strange resemblance with the most famous plumber of the videogames world.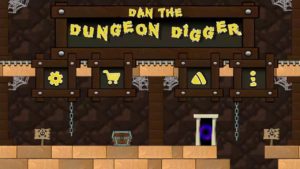 Talking more specifically of the gameplay's core feature, the player will follow the path of Dan, a brave miner who will go through an incredibly long serie of underground environments full of obstacles made up of letal traps to avoid at all cost in order to complete everyone of the game's 30 levels.
In regards to the previously mentioned Nintendo classics, the fundamental difference with Dungeon Digger (and the other Hoo Games productions) is that you could not face directly the obstacles along your path, but rather try to elude them as much as possible or else lose partly or completely your vital energies.
Not much different seems the pattern in which the following game, Chipy the Squirrel, is structured, except for some peculiar features such as fly for a short distance from a platoform to another one.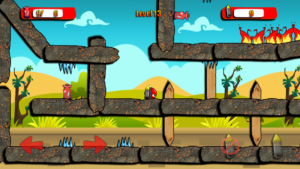 In conclusion, we may say without doubt that Hoo Games can justly be counted among the best indie game developers showing how the european scene could be capable to display to the global gamer comunity.
(We even had the great opportunity to have a little chat with the guy behind Hoo Games, Gerd Surey, who illustrated us the main history of his games development and what kind of prjects is courrently preparing for the future. Down Here you can see the text of the interview):
Hello Gerd. Thank you so much for taking the time to exchange few words with us. Without further hesitations, let's talk about your dev project. How is Hoo Games born?
I've always wanted to make games, but I hardly had time. Hoogames was created after I got sick and unfortunately had too much time. I had severaloperations on my legs and hips, but after 2 years I feel better again.

How did you get into the world of video games?
When I was 10 years old (a long time ago), I got an Atari 800 Xl for free and I was thrilled about it. As with everyone else in my old (43) age, the C64, Amiga, PC and some other consoles followed. Until today I rather liked platform games in 2D and Pixel Art fascinated me the most.

What do you think of the video game industry?
I think a lot of the industry, ok some are just out for a quick buck, but what I would like to do is develop a game together with a team. This is unfortunately not possible as an Indiegame developer, because you only have limited resources available.

What is your favorite genre of video games?
I played World of Warcraft for a few years, which is still fun today, but I prefer the fast platform games. Giana Sisters, Mario and ll the platform games are just as much fun today as they used to be. When I got an Amiga back then I liked the games from the Bitmap Bros. best, the guys got everything out of theold box.

What are your views about the current game industry supply?
There is a large selection of games, which makes me very happy, because you can look out for your favorite games and you never get bored.

What do you think of the correlation between game=violence?
Games and unfortunately also violence belong together in some games, which excites me again and again that some people think that just because people play 3D shooters they have to be violent. If you look at the movies you should it's the same, but it's not the case. People who can't separate something like that have other problems as well.
Are you currently working on a new project?
Yes, I am currently working on a new game, the name of the name of the game is Chipy the Squirrel. Many who see the game for the first time think it looks like a mixture of King of the Lions (Sega Mega Drive game) and Sonic. I then write back it looks like Chipy. The new game will be huge and it will be a lot of fun to develop the game. I am currently working with an excellent sound designer Diskolips .
About the game, you can discover a lot in this game, but you should also find all the nuts. You can finish the levels without all the nuts, but you need 3 stars (find all the nuts) to unlock extras. So let us surprise you.

You are known for your work as an Android game developer.
Are you considering the idea of making games for other platform such as console or PC?
Chipy for Android will be released this year, I am thinking about developing the game for the PC. What will come next year will become apparent, since I have great interest in the new Nintendo Switch and would like to develop a game for it. I have enough ideas.