Salve a tutti, cari FollowHz!
dal 15 al 18 settembre si terrà, anche in streaming, il Tokyo Game Show 2022, con sviluppatori famosi anche in occidente e sviluppatori non (ancora) famosi qui da noi, ma si preannuncia un evento ricco di novità. Di seguito, gli orari delle conferenze.
Tokyo Game Show 2022: gli orari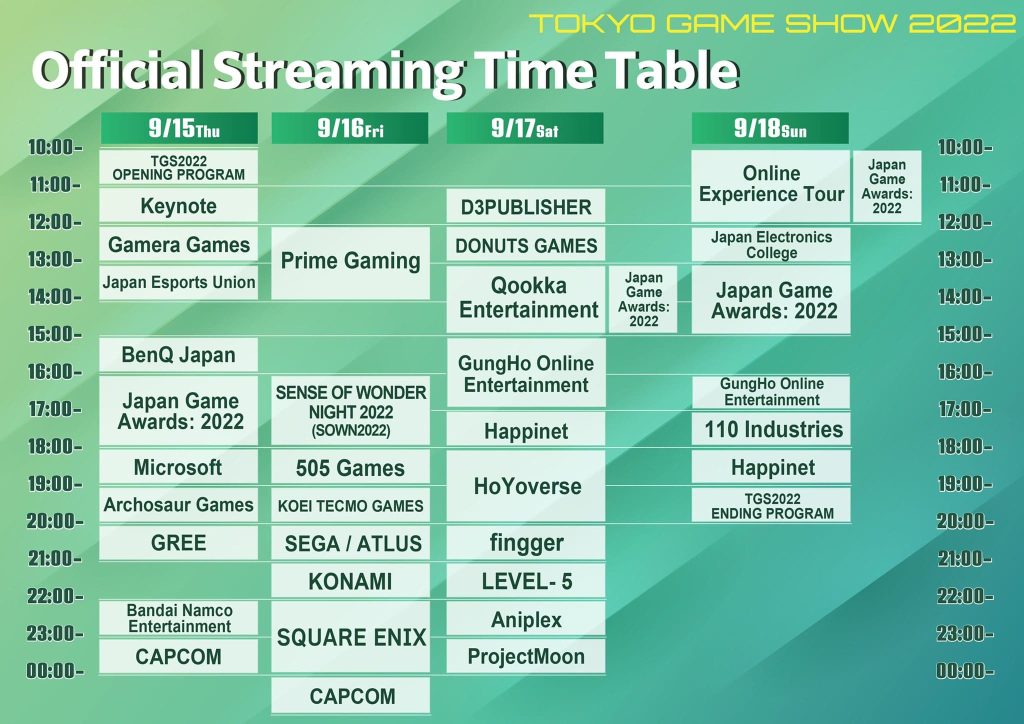 15 Settembre:

03:00: Tokyo Game Show 2022 Opening Program
04:00: Keynote
05:00: Gamera Games
06:00: Japanese Esports Union
07:00: BenQ Japan
09:00: Japan Game Awards 2022
11:00: Microsoft Xbox Showcase
19:00: Archosaur Games
12:00: GREE
15:00: Bandai Namco Entertainment
16:00: Capcom Showcase

16 settembre:

05:00: Prime Gaming.
09:00: Sense of Wonder Night 2022.
11:00: 505 Games.
12:00: Koei Tecmo Games.
13:00: SEGA/ATLUS.
14:00: Konami.
15:00: Square Enix.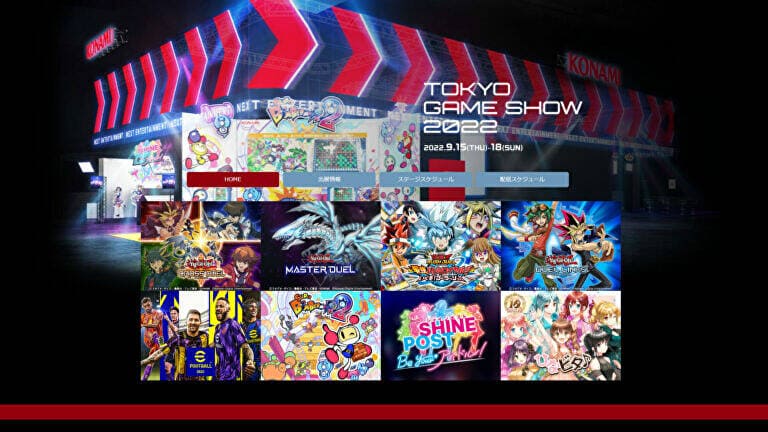 17 settembre:

04:00: D3 Publisher.
05:00: Donuts Games.
06:00: Qookka Entertainment.
07:00: Japan Game Awards 2022.
08:00: GungHo Online Entertainment.
10:00: Happinet.
11:00: miHoYo.
13:00: fingger.
14:00: LEVEL-5.
15:00: Aniplex.
16:00: ProjectMoon.

18 settembre

03:00: Japan Game Awards 2022.
05:00: Japan Electronics College.
06:00: Japan Game Awards 2022.
09:00: GungHo Online Entertainment.
10:00: 110 Industries.
11:00: Happinet.
12:00: Tokyo Game Show 2022 Ending Program.
Tokyo Game Show 2022: Capcom
Durante lo show, Capcom Japan trasmetterà due eventi solo digitali: il 15 settembre andrà in onda Tokyo Game Show 2022 Capcom Online Program mentre il giorno successivo Capcom trasmetterà Tokyo Game Show Street Fighter 6 Special Program. Com'è intuibile dai nomi, l'evento del 15 settembre sarà dedicato alle novità in arrivo sia per titoli annunciati che non; il secondo showcase è invece incentrato su Street Fighter 6 giocabile allo Stand Capcom insieme a Exoprimal, Mega Man Battle Network Legacy Collection e Monster Hunter Rise Sunbreak.
Tokyo Game Show 2022: One Piece Odissey
One Piece Odyssey avrà una presentazione dedicata che si terrà il 15 settembre alle ore 15:00 per circa 50 minuti. La presentazione sarà condotta dal producer Katsuaki Tsuzuki e dalla doppiatrice Marika Kohno con diversi ospiti e sarà caratterizzata da esempi di gameplay in presa diretta commentati in diretta dagli sviluppatori, più altre sorprese che saranno annunciati in esclusiva per lo show.
Ha chiaramente stupito la nuova assenza di Playstation anche per questo evento: sembra proprio che dovremo aspettare uno State of Play.
E voi, cosa ne pensate? Seguirete questo evento? Ditecelo qua sotto!