Salve a tutti, cari FollowHz!
SNK Corporation, i creatori dell'attesissimo The King of Fighters XV sono felici di annunciare che insieme al gioco principale sarà disponibile anche un'Omega edition per PlayStation 4, PlayStation 5 e Xbox Series X/S.
The King of Fighters XV: Un Contenuto Gigantesco
The King of Fighters XV include 39 personaggi in totale, tra cui i personaggi classici e preferiti dai fan. In aggiunta al classico 3-on-3 team battle system, il gioco introduce anche la Shatter Strike, una nuova meccanica che consente ai giocatori di contrastare gli attacchi nemici. Inoltre, i giocatori possono sperimentare una Max Mode migliorata, così come la Max Mode Quick. La funzione Rush consente di eseguire tutte le combo premendo rapidamente i pulsanti di attacco. Un gioco quindi ricco di alcuni contenuti esclusivi, sia digitali che fisici, dedicato sia ai fan della serie che ai collezionisti.
The King of Fighters XV: I Contenuti dell'Omega Edition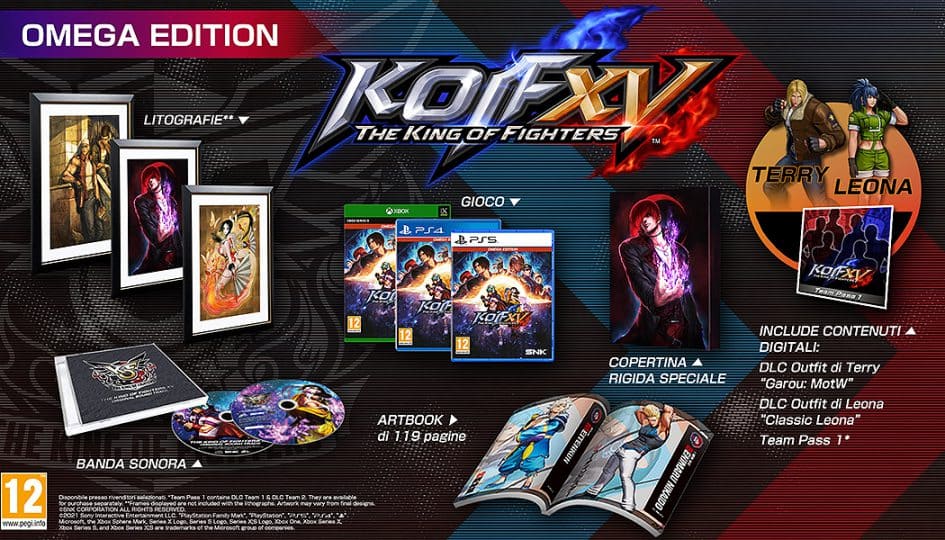 Oltre, naturalmente, al gioco principale, l'Omega Edition include:
3 litografie;
Colonna sonora;
Artbook di 119 pagine;
Cofanetto speciale;
Team Pass 1 (Team DLC 1 e Team DLC 2);
Terry "Garou: MotW" DLC Costume;
Leona "Classic Leona" DLC Costume.
E voi, la aspettavate con ansia questa nuova edizione? Ditecelo qua sotto!