Salve salvissimo FollowHz!
Come riferisce Gamingbolt.com, dopo ben due anni di attesa è finalmente disponibile la versione per Nintendo Switch di Thronebreaker: The Witcher Tales.
Il titolo, realizzato da CD Projekt RED come spin-off del celeberrimo The Witcher, non ha goduto dello stesso, enorme seguito di popolarità presso il pubblico.
Ciononostante (come spesso avviene con certe "perle nascoste") questo gioco si è rivelato sorprendentemente buono, stando a quanto dicono quelli che vi si sono cimentati, e questo lo si deve in gran parte alla giusta miscela di elementi che rendono qualitativamente pregevoli i titoli della serie The Witcher: una grande storia, personaggi dotati di solidità e spessore, una scrittura eccellente e scelte significative per i giocatori, il tutto nel contesto di avvincenti battaglie basate su carte.  
Dunque, un pubblico ben più vasto di quello degli utenti delle altre piattaforme (PS4, Xbox One e PC) avrà ora modo di poter apprezzare questa splendida opera, e contro le stesse previsioni degli sviluppatori (visto che CDPR aveva affermato che non sarebbe successo nel 2018, quando il gioco in versione per le suddette console e PC).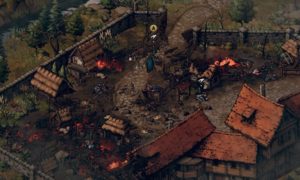 Il costo del gioco è di 19,99 dollari (poco più di 17,25 euro) e pesa 4,3 GB.
Per quanto risulti valido, purtroppo Thronebreaker non ha ottenuto molto successo sul mercato, cosa che ha spinto CD Projekt RED a dichiarare che verrà realizzato un sequel per il gioco. Non resta che augurarsi in un aumento delle vendite grazie a Switch.

(Immagini tratte da Gamingbolt.com , Nintendo.com).