Salvonissimamente salve FollowHz!
Come riferisce Gamingbolt.com, la prima stagione di Call of Duty: Modern Warfare continua con il lancio da parte di Infinity Ward  di due nuove mappe multiplayer – Shipmenton e Vacant – e  altrettante per la modalità  Gunfight – Over Winter e Shipment.
Nel trailer di presentazione, riportato qui sotto al testo, e anche possibile dare un breve sguardo alla nuova modalità multiplayer Cranked che, a, quanto sembra, appartiene alla categoria di modalità a tempo limitato.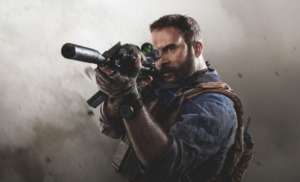 Altri nuovi contenuti includono nuove missioni Special Ops, anche se resta da vedere se sono missioni curate con classificazione a stelle.
Per quanto riguarda le nuove mappe multiplayer, Shipment dovrebbe essere molto familiare ai fan della serie. Era una delle mappe più amate di Call of Duty 4: Modern Warfare.
Di seguito, o lettori carissimi, riportiamo qui sotto al testo il trailer di presentazione della Season One.
Buona visione!   
(Immagine di sfondo tratta da Gamingbolt.com).