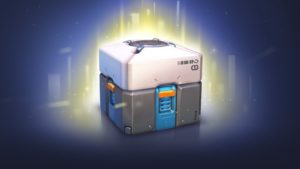 Salve a tutti cari followHz,

sapete come mi comporto quando si parla di loot-box ed alcuni di voi conoscono anche il mio pensiero in merito a tale argomento.
Per chi non lo sapesse ho sempre sostenuto l'idea di doverne doverosamente parlarne e, a quanto pare qualcuno mi ha ascoltato, infatti Fine Production è al lavoro su The Loot Box, un documentario d'inchiesta che racconta il mondo delle microtransazioni all'interno dei videogiochi e l'universo che gli gravita attorno dal punto di vista sociale ed economico.
The Loot Box è stato selezionato da Mediaset Infinity nell'ambito dell'Infinity Lab. L'iniziativa prevede il lancio di una campagna di crowdfunding della durata di due mesi, per la quale la piattaforma garantisce un co-finanziamento pari al 50%.
Qui il teaser del documentario e molte altre informazioni.
Cosa c'è dietro il business delle microtransazioni nei videogiochi? Il Micropagamento è una transazione finanziaria che riguarda una somma di denaro molto piccola e di solito una avviene online". "Le microtransazioni (a volte abbreviate in MTX) sono un modello commerciale in cui gli utenti possono acquistare beni virtuali tramite micropagamenti".
Alcuni anni fa le microtransazioni sono comparse nell'universo dei videogiochi; acquisti attraverso denaro reale che si svolgono nel gioco. L'11 giugno 2018 l'OMS pubblica l'undicesima edizione dell'International Classification of Diseases (ICD-11) introducendo per la prima volta il termine "disturbo del gioco" riconoscendo la dipendenza da videogiochi come una vera patologia. Ciò solleva domande importanti sull'uso (e l'abuso) delle microtransazioni da parte dei videogiocatori (molte volte ancora minorenni).
La questione sta assumendo una certa importanza a livello politico e sociale, spingendo le istituzioni a interrogarsi e indagare sul fenomeno. The Loot Box è un documentario di inchiesta, scritto da un appassionato giocatore e insider e da un regista di professione, che ha assistito a questo tipo di trasformazione nel corso degli anni. Il progetto si propone di approfondire il processo in corso, indagando sulla meccanica, sia dal punto di vista degli utenti che delle software house.
Vogliamo partire da una ricerca commerciale per arrivare alle componenti psicologiche, sociologiche e antropologiche, cercando di capire come e quanto questo fenomeno sia riconosciuto e trattato a livello istituzionale.
Nata nel 2018 dalla collaborazione e dall'esperienza pluriennale di Paolo Spadavecchia e Antonio Monno come freelancers in ambito audiovisivo, Fine Production è una casa di produzione che opera in diversi ambiti, dall'aziendale al pubblicitario, dal musicale al cinematografico e documentaristico.
All'interno dell'esperienza produttiva di Fine Production converge inoltre l'eredità e l'esperienza di Fisheye Production, associazione culturale e produzione indipendente della quale Paolo Spadavecchia è stato fondatore e all'interno della quale ha lavorato come producer in ambito documentaristico.
Nelle produzioni Fisheye degli ultimi anni, infatti, appare già come produttore associato la stessa Fine Production (prima in forma di collettivo, successivamente come vera e propria società di produzione gemella). Attualmente Fisheye Production non è più formalmente attiva, migrando i propri progetti e le proprie esperienze in Fine Production anche in ottica di una crescita ed uno sviluppo maggiore delle proprie attività produttive.
Cari followHz, non vedo l'ora di vederlo!