Salvissimamente salve FollowHz!
Come riportato da varie fonti (tra le quali Gematsu.com), in occasione del ChinaJoy 2019 è stato dato annuncio che il titolo RPG Genshin Impact arriverà su PS4 nel corso del 2020, aggiungendo così una ulteriore piattaforma su cui potrà essere acquistato, oltre a quelle precedentemente PC, iOS, e Android (il buon Sam Lai di miHoYo Technology, team di sviluppo autore del gioco, ha infatti messo in chiaro in un messaggio pubblicato sul PlayStation Blog la volontà di conquistare il maggior numero di giocatori possibili, così che possano innamorarsi delle magiche ambientazioni che questa avventura fantasy open world ha da offrire ).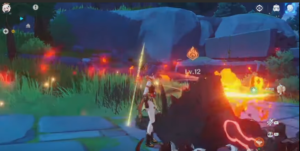 (Immagine tratta da PlayStation Europe).
Il gioco, fortemente debitore al modello di The Legend of Zelda: Breath of Wild, consente all'utente di muoversi attraverso Teyvat, fantastico e misterioso mondo invaso da schiere di entità demoniache che minacciano l'equilibrio e la pace che vige tra i villaggi sparsi per le contrade in cui è suddivisa questa realtà.
Vestendo i panni di un misterioso personaggio chiamato "Il Viaggiatore", l'utente sarà libero di muoversi attraverso gli ambienti di Teyvat, afrontare sfide e combattimenti o intraprendere itinerari esplorativi da solo o con il supporto di amici con cui condividere il viaggio (è possibile scegliere i propri alleati in un roster fornito di oltre 30 diversi personaggi dia quai poter prendere fino a quattro elementi così da poter formare la propria di aiutanti).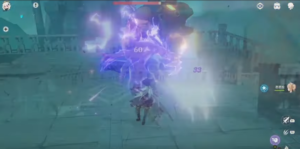 (Immagine tratta da PlayStation Europe).
Il personaggio del "Viaggiatore" potrà dunque procedere attraverso una campagna principale di esplorazione potendo evolversi tra enigmi da risolvere, affrontare dungeon e scovare preziosi tesori attraverso misteriose e pericolose lande.
Essendo ancora nelle prime fasi di sviluppo, non è ancora stata comunicata una data ufficiale della pubblicazione del titolo per PS4, ci si augura che l'uscita possa avvenire entro e non oltre la primavera del 2020.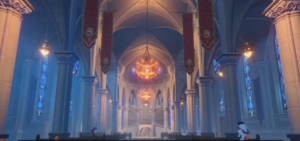 (Immagine tratta da PlayStation Europe).
Come spesso accade, non resta che incrociare le dita e attendere la comunicazione di ulteriori notizie in merito.
Prima di chiudere, riportiamo qui sotto il filmato dell'ultimo Gameplay Trailer di questa opera RPG.
Buona visione, o lettori!