Salve salvone salvissimo FollowHz!
Come riferisce Gamranx.com, stato rilasciato un video gameplay di 13 minuti che illustra il nuovissimo Blood and Truth, titolo sparatutto in prima persona per VR realizzato da SIE London Studio, team divenuto famoso per aver donato al mondo London Heist, opera per certi versi ritenuta come il predecessore spirituale del nuovo gioco.
L'opera in questione, resa disponibile nella giornata di ieri, è uno splendido concentrato di azione e follia completa, sapientemente illustrato in questo filmato di gameplay che (molto, molto probabilmente) potrà riuscire a far felici non pochi amanti del genere!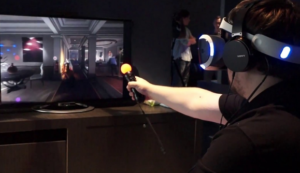 Dunque, senza troppi indugi, o adoratori di sparatorie e esplosioni, ecco a voi qui sotto il video gameplay di Blood and Truth, e che l'azione cominci!