Salve a tutti i nostri compratori intelligentiHz!
Facendo un rapido controllo Online su più siti, piattaforme e volantini ho notato diverse offerte in campo Tech & Videogames. Gli sconti di primavera colpiscono tutti e quindi andiamo subito a vedere dove e cosa: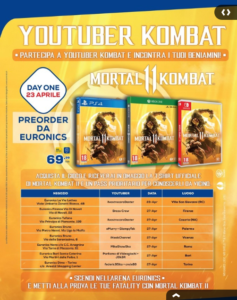 Euronics ad esempio, dal 10 al 23 Aprile e quindi ancora per 5 giorni ha il suo Time to Play con tanti sconti, potete vedere il volantino QUI per controllare meglio le offerte. Noi segnaliamo le offerte per Nintendo Switch sui Kit Labo, una Xbox 1 Terabyte con Forza Horizon e un secondo controller a 249,99 euro (interessante in quanto i precedenti bundle avevano solo un controller) e se pre-ordinate da loro Mortal Kombat 11 riceverete una t-Shirt e la possibilità di incontrare i vostri youtuber preferiti in varie città d'Italia tramite il Youtube Kombat

Sul PS Store invece tramite una segnalazione di Playstation Blog.it
Troviamo altri titoli scontati per gli sconti di primavera ovviamente date uno
sguardo approfondito perchè ci sono tanti giochi in offerta fino al 1 Maggio:
FIFA 19
Call of Duty: Black Ops 4
God of War Digital Deluxe Edition
Overwatch Legendary Edition
Tom Clancy's The Division 2
Su  Amazon segnaliamo oltre delle occasioni a prezzi bassi che potete visualizzare QUI e diverse offerte QUI due prodotti con uno sconto che supera le 100 euro:
Non Resta altro che vedere cosa vi piace di più tra le nostre segnalazioni!
Fate Acquisti Intelligenti!