Salve a tutti cari followHz,
chi lo avrebbe mai detto? nella prossima stagione de "I Simpson" ci sarà una puntata dedicata agli e-sport essendo ormai questo u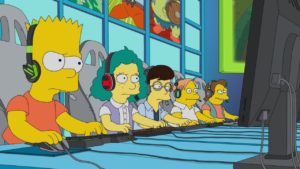 niverso è entrato nella cultura e nel linguaggio di gran parte di noi.
Per l'occasione, Riot Games è stata contattata per assicurarsi che l'esport fosse correttamente rappresentato. Non è la prima volta che la serie di Matt Groening parla dei videogiochi ma è la prima volta che, un publisher così grosso e l'autore di un cartone animato che non passa mai di moda, si uniscono per dar vita ad un episodio animato.
 Non è nemmeno la prima volta che il mondo mainstream si occupa di trattare l'esport. Netflix, ad esempio, ha raccontato la League of Legends Championship Series (LCS) nella serie 7 Days Out, un documentario "dietro le quinte" di ciò che accade nell'organizzazione di un grande evento.
Il 17 marzo, Fox trasmetterà dunque il nuovo episodio dei Simpson chiamato "E My Sports"in cui Bart inizia a competere in un gioco chiamato "Conflict of Enemies". Il gioco, molto simile a League of Legends appassionerà Homer  a tal punto da iniziare ad allenare la squadra.
Io sono sempre stato (come molti) un fan dei Simpson, quindi sapere che ci sarà una puntata dedicata agli e-sport è per me un bellissima notizia.