Salvissimamente salve FollowHz!
A quanto annunciato da Sony su su PlayStationBlog.com, è fissato per giugno l'arrivo di una nuova periferica per VR strutturata in una maniera alquanto diversa da quelle uscite fino ad ora. La particolarità di questo nuovo motion controler di cui sta per dotarsi PlayStation VR risiede nel fatto che prevederà l'uso combinato di mani,, dita, piedi e gambe.
Tale controller, denominato 3dRudder, è nato dall'idea espressa dal cofondatore, l'architetto Valerio Bonora, di creare  dei dispositivi al computer gestibili attraverso i movimenti dei piedi, così da lasciare le mani libere di potersi concentrare su altro; questa intuizione è stata ripresa e rielaborata in forma di dispositivo per VR dieci anni dopo.   
Il messaggio di annuncio ha illustrato egregiamente le caratteristiche di 3dRudder: in questa piattaforma circolare, non bisogna fare altro che posizionare i piedi e muoverli nella direzione desiderata e, quando li si vuole far riposare, si potrà utilizzare un piccolo spazio al centro della struttura. In virtù del principio di rendere l'esperienza VR quanto più simile alla vita reale, la gamma di movimenti che è possibile effettuare risulta piuttosto varia: si passa dal poter camminare dritto all'eseguire scatti girando l'angolo o fermarsi direttamente nel luogo voluto. Il sistema viene gestito attraverso la apposita IMU (Inertial Measurement Unit) e da una serie di sensori di pressione che riconvertono i movimenti del giocatore in spostamenti all'interno della realtà virtuale del gioco.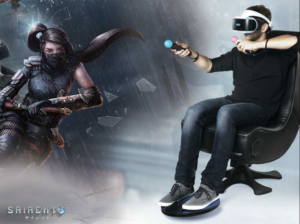 Il dispositivo risulterebbe compatibile alla PS4 attraverso cavo USB e potrà essere utilizzato con i cntroller Move, il Dualshock 4 e l'Aim Controller.
Inoltre, è già stata comunicata una lista di ben trenta titoli compatibili gà da subito con 3dRudder , che è possibile consultare qui sotto:
Immortal Legacy: The Jade Cypher

Undead Citadel

Sairento VR

Ultrawings VR

Bow to Blood

Pirate Flight

DWVR

The Wizards-Enhanced edition

Red Matter

Operation Warcade

Beat Blaster

Honor and Duty : D-Day

Honor and Duty : Arcade Edition

Nature Treks

Mind Labyrinth

Scraper VR

Affected : The Manor

Telefrag VR

TrainerVR

Proze

Darkness Roller Coaster

Vertigo-Home

Contagion VR

Shadow Legend

Blind
Infine, ecco il filmato del nuovo trailer.
Dite la vostra in proposito e lasciate un mi piace!