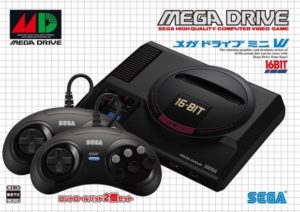 Salve a tutti cari followHz,
gli ultimi anni sembrano essere stati di ispirazione retrò vista l'uscita delle versioni "mini" di diverse consolle del decennio 80/90.
Poche ore fa è arrivato l'annuncio tanto atteso: in occasione del SEGA Fes 2019, arrivano nuove informazioni, immagini e dettagli riguardo l'uscita di SEGA Mega Drive Mini in Europa e Stati Uniti, a partire dalla selezione dei giochi pre-installati. 
Ecco the Dolphin

Castlevania: The New Generation

Shining Force

Space Harrier 2

Toejam & Earl

Sonic the Hedgehog

Altered Beast

Megaman: The Wily Wars

Dr. Robotnik's Mean Bean Machine

Gunstar Heroes

Comix Zone

La versione Giapponese avrà però alcune differenze in merito ai titoli:

Sonic The Hedgehog

Puyo Puyo 2

Shining Force

Castlevania: Vampire Killer

Wrestleball

Gunstar Heroes

Comix Zone

Rent a Hero

Space Harrier 2

Madou Monogatari

Da amanti del mondo retrò, aspettiamo spasmodici che la SEGA Megadrive Mini venga commercializzato, voi lo comprereste?