Ciao GameHz.
Disponibile da oggi 10 novembre il download di NEOGEO POCKET COLOR SELECTION Vol.2 per Nintendo Switch e PC tramite Steam.
Al prezzo di 39,99€ riceverete dieci classici giochi SNK, quasi tutti disponibili in lingua inglese.

NEOGEO POCKET COLOR SELECTION Vol.2 
La seconda collezione di classici SNK è finalmente arrivata con dieci nuovi capolavori NEOGEO POCKET COLOR. Quattro di questi titoli sono attualmente venduti separatamente, il che significa che sei nuovi titoli sono stati aggiunti alla raccolta. I giocatori possono sperimentare una vasta gamma di generi, dagli sport ai puzzle d'azione, ai giochi di carte e altro ancora. La collezione offre funzionalità di riavvolgimento, quindi i game over sono un ricordo del passato.
Ecco i titoli presenti:
SNK VS. CAPCOM CARD FIGHTERS' CLASH
BIG BANG PRO WRESTLING
BIOMOTOR UNITRON
MEGA MAN BATTLE & FIGHTERS
PUZZLE LINK2
GANBARE NEO POKE-KUN
THE KING OF FIGHTERS BATTLE DE PARADISE
BASEBALL STARS COLOR
POCKET TENNIS COLOR
NEOGEO CUP '98 PLUS COLOR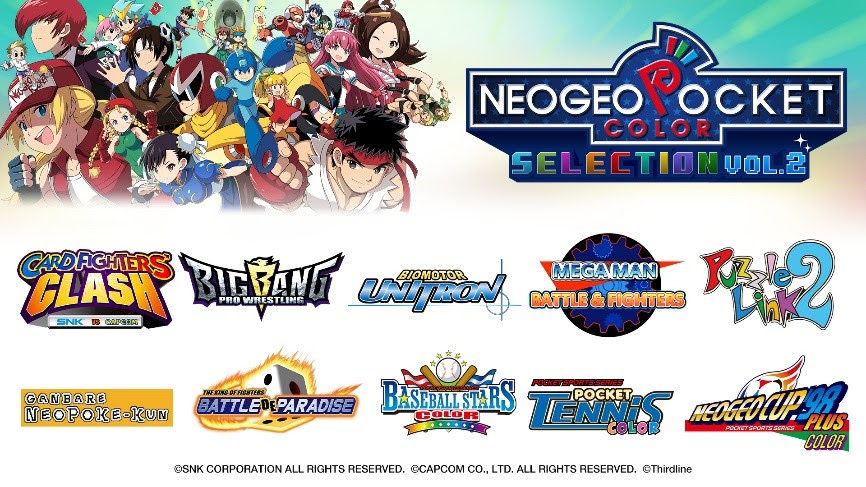 Ad eccezione di MEGA MAN BATTLE & FIGHTERS e GANBARE NEO POKE-KUN, tutti i giochi sono disponibili in inglese nella raccolta NEOGEO POCKET COLOR SELECTION Vol.2 al prezzo di 39,99€.
Voi cosa ne pensate? Sarete presi dalla nostalgia o dalla voglia di provare questi grandi classici del passato?