Salve a tutti cari FollowHz e benvenuti!
Oggi inizieremo con l'approfondimento di Legends of Runeterra, nuovo gioco di carte di casa Riot Games.
In particolare andremo a distinguere le tipologie delle carte e specificare alcune meccaniche mostrate fino a questo momento. Ricordiamo che si è appena conclusa la settimana nella quale la software house sviluppatrice di League of Legends ha messo a disposizione il gioco per alcuni "eletti".
Cominciamo dal distinguere le varie tipologie di carte. Queste possono essere Unità o Incantesimi, e a loro volta si distinguono per i 4 differenti colori della gemma posta al di sotto di esse: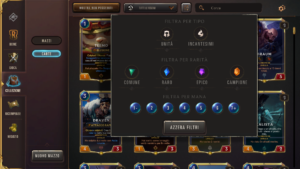 Verde per le Comuni
Blu per le Rare
Viola per le Epiche
Arancione per i Campioni
Le unità sono tutte quelle carte dotate di un valore di attacco, altrimenti detto Potere, un valore che indica la salute e solitamente da un effetto ben descritto; oltre, ovviamente, al valore che indica il costo in mana.
Gli incantesimi, a parte la descrizione dell'effetto, possiedono solamente il numero che indica il costo in mana e un TAG che ne indica la sottocategoria. Questi infatti possono essere di 3 tipologie: Raffica, Veloci e Lente.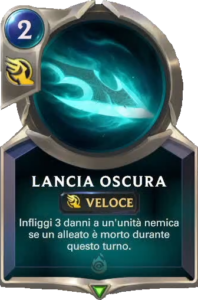 Raffica: questa tipologia di incantesimo può essere lanciata in qualsiasi momento dello scontro, non può essere respinta, ed il nemico potrà agire solamente una volta risolto il proprio effetto.
Veloce: queste funzionano come le prime ma danno all'avversario la possibilità di risposta, con altri incantesimi veloci o con raffica.
Lenta: gli incantesimi del genere spesso risultano essere particolarmente potente e costosi rispetto ai più rapidi e possono essere utilizzati solo al di fuori dei combattimenti e dagli altri lanci di magie.
I lanci di magie non sono altro che delle "pile" di carte che si possono venire a creare nel momento in cui comincia un botta e risposta fra i giocatori e questa verrà risolta dall'ultimo incantesimo lanciato, fino al primo.
Passiamo adesso alla composizione del mazzo.
Questo deve essere formato da 40 carte, ed è possibile inserire al suo interno non più di 3 copie di una singola carta, di qualunque tipologia essa sia, ad eccezione dei campioni che possono essere un massimo di 6, gestibili sempre fino al limite di 3 copie l'uno. Ulteriore restrizione, consiste nell'appartenenza di ogni carta ad una delle 6 Regioni del mondo di Runeterra: Demacia, Freljord, Ionia, Noxus, Piltover e Zaun e le Isole Ombra.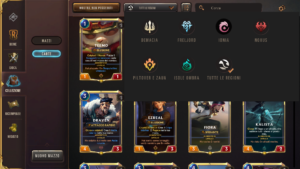 Ognuna di esse ha delle sue peculiarità, e spesso alcune tra loro sinergizzano bene insieme infatti i mazzi potranno contenere carte di non più di 2 Regioni diverse, a discrezione del giocatore.
Bene, per quanto riguarda la prima parte dell'approfondimento è tutto!
Continueremo parlando meglio delle carte Alleato e delle loro abilità, con particolare riguardo ai Campioni, probabilmente le carte più forti e particolari di questo nuovo gioco di carte.