Salve salvissimo FollowHz!
Come riportato da Gematsu.com, Square Enix ha dato l'annuncio di Octopath Traveler: Champions of the Continent per i dispositivi iOS e Android, in uscita in Giappone nel corso del 2019.
Il gioco è un RPG free-to-play in modalità single player ambientato nel mondo di Osterra diversi anni prima degli eventi di Octopath Traveler per Switch, titolo che secondo quanto riporta Square Enix, ha sorpassato il milione e mezzo di copie spedite e vendute in formato digitale su tutto il globo.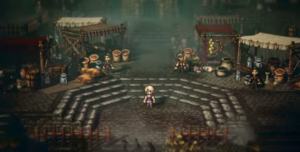 E' possibile effettuare la pre-registrazione sul sito ufficiale . Inoltre, il 12 marzo Square Enix renderà accessibile ai giocatori la versione demo anticipata del gioco.
Per quel che riguarda un nuovo gioco per console, l'account di Twitter ufficiale di Octopath Traveler ha rilasciato il seguente messaggio: " A tutti color che sono in attesa di un nuovo gioco per console vorremmo dire che ci dispiace, ma ma la produzione richiederà un po' più di tempo del previsto, nel frattempo ci auguriamo possiate divertirvi con questo nuovo gioco per smartphone".
Nel frattempo si attende l'eventuale uscita di una versione per il mercato occidentale.