Salvissimamente salve FollowHz!
Gli appassionati fan di Tom Clancy's The Divison 2 potranno, a partire dalla giornata di venerdì, di provare la versione beta del gioco sulle console PS4, Xbox e PC.
Oltre a diverse missioni del racconto principale, si potrà affrontare varie altre attività presenti nel mondo aperto e una delle Zone Nere nella versione definitiva del gioco.
Ulteriori contenuti renderanno più completa la Open Beta rispetto alla Private del mese scorso, e il personaggio principale disporrà di un level cap in grado di raggiungere il livello 8, in più sarà disponibile Viewpoint Museum, nuova missione della Storia. Si potrà poi usufruire di una nuova skill disponibile nelle varianti Riot Foam ed Explosive Vapor del tipo Chem Launcher, oltre a due piani progettuali per l'insediamento del Teatro. Altro elemento che contribuisce ad arrichire l'Open Beta sarà Capitol Ruins, una seconda Mappa per il PvP 4vs4. Nela Open Beta I giocatori avranno facoltà di creare un unico personaggio, e nella Beta saranno disponibili: tre missioni per la storia principale più cinque attività facoltative sbloccabili con il procedere dell'esplorazione dell'ambientazione di WASHINGTON D.C. che si trova alla base dell'immaginario del gioco.
Dopo aver concluso la missione presso il Jefferson Trade Center (in maniera analoga alla Private Beta) sarà nuovamente a disposizione nell'endgame, ed il personaggio potrà operare a livello 30 con tanto di equipaggiamento e armamento avanzati.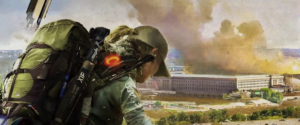 Già da questa mattina è stato reso disponibile il preload dell'Open Beta, e sarà giocabile dalle ore 10:00 del primo di marzo fino alle ore 10:00 del 5 marzo (ogni ulteriore delucidaizone è reperibile direttamente all'indirizzo di Tom Clancy's The Division 2).
.